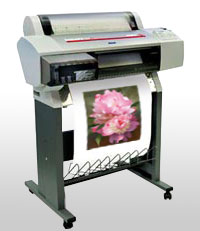 How are Giclée art prints made?
In Giclée printing, no screen or other mechanical devices are used and therefore there is no visible dot screen pattern. The image has all the tonalities and hues of the original painting. Giclée (pronounced Gee'clay) is a French term meaning to spray or squirt, which is how an inkjet printer works. However, it is not the same as a standard desktop inkjet printer, and is much larger.
What type of ink do you use?
We use 100% Genuine Epson Ultrachrome K3 inks, estimated to last 100 years or more — well past the archival rating.
Are the papers you use archival quality and acid-free?
While we can print on a variety of papers, including canvas, our standard paper is a premium photograde, resin coated, microporous paper, designed for the highest quality photo quality images. This instant dry, bright white paper is ideal for heavy ink laydowns and delivers vivid colors, and excellent tone reproduction.
What size are the note cards?
The size of the note cards varies depending upon the size and orientation (portrait or landscape) of the original painting, however, all note cards will fit within an A7 size envelope.