It is with great sadness we announce that R. Benjamin Jones passed away on Feb. 24, 2017. Sales of Original paintings have been suspended until further notice.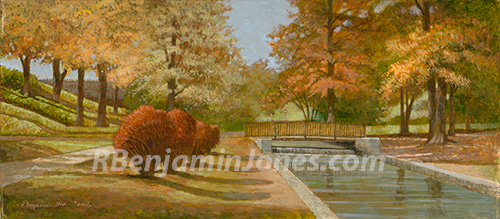 Along Virginia Avenue
The setting is along the city park. When I first came to Hagerstown I often went to the park. But then I seemed to get very busy and didn't go so often. Recently I have gone back and found our park to be a most beautiful part of our town. I have now done three paintings of the place I had neglected for so long. The first was in deep winter, then in spring, and now autumn.
Prints are 85-95% of original size, except where noted otherwise.
Dimensions of Original: 18"W x 8"H