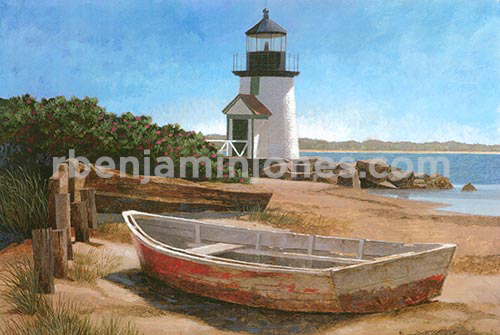 Brant Point Light (2018)
To go to Nantucket Island is to go back in time. Thirty miles into the ocean, iridescent moons, gray-shingled buildings, cobblestone streets, pink roses climbing the houses and fences, salt sea air, and the sea all around. As the ferry brings us into Nantucket harbor, it is hard not to think about the whaling ships that made the same trip over a century ago - and on any trip in and out of that harbor you pass close by the Brant Point Lighthouse. It has become a symbol for the Island.

The original structure of 1746 was the second lighthouse built in America. There are two other lighthouses on the island - Great Point and Sankaty Head - and all three are proud reminders of a time when Nantucketers took their harvest from the sea. They played important roles in guiding sailors home from the sea; their bright beacons led many vessels safely around the shoals and through the fog. Completed 2002.
Prints are 85-95% of original size, except where noted otherwise.
Dimensions of Original: 18"W x 14"H