It is with great sadness we announce that R. Benjamin Jones passed away on Feb. 24, 2017. Sales of Original paintings have been suspended until further notice.
Bridge At Devil's Backbone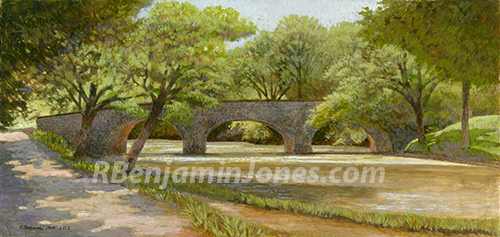 Bridge At Devil's Backbone
This is now my third attempt at making paintings of the bridges of Washington County. The scene from this side of the bridge is almost always back-lit and in shadow. After looking at it for years I saw the very appealing look of the bridge as light came through the arches and trees and it created such fine shadows.
Prints are 85-95% of original size, except where noted otherwise.
Dimensions of Original: 18.8"W x 9"H