It is with great sadness we announce that R. Benjamin Jones passed away on Feb. 24, 2017. Sales of Original paintings have been suspended until further notice.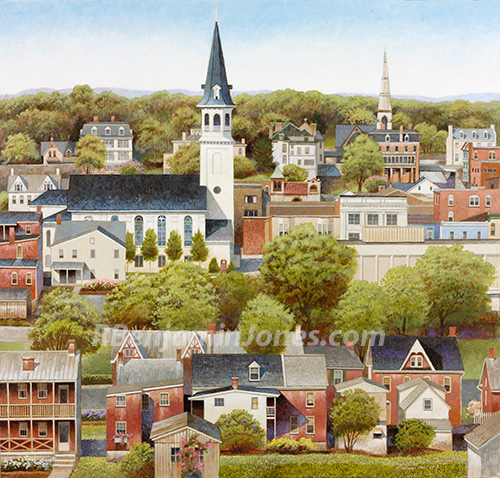 Cityscape - Summer
Over the past twenty three years much of the subject matter for my paintings was New England .Only the farms of Washington County were of local interest. But within the last few years there has been a change. I have paid more attention to the city of Hagerstown. The city park became a most wonderful place for painting and it has been a new direction (after living here for 46 years). As I roamed around the city looking at buildings and streets, I kept seeing the tall tower of the St John's Lutheran church and another of St. John's Episcopal  in the back ground. It seemed that every place in and around the city were the looming spires.  I got the idea that to see anything of interest I would have to be high for a different view. The hospital was to be torn down within days and I got permission to go all the way to the top to catch my scene. Thus after many weeks came the city scape. No matter about the size or the time, I loved doing it. I worked on the scene to bring about the colors of summer.
Prints are 85-95% of original size, except where noted otherwise.
Dimensions of Original: 15.7"W x 15"H