It is with great sadness we announce that R. Benjamin Jones passed away on Feb. 24, 2017. Sales of Original paintings have been suspended until further notice.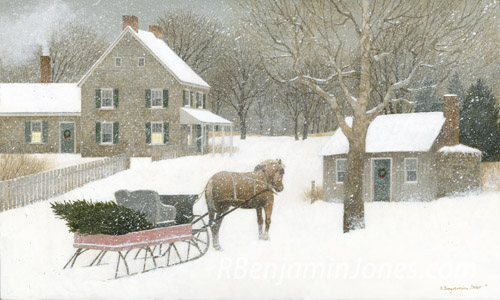 December Traditions
Snow scenes are not a new subject. There have been many farms and animals, mostly cows, but in this case it's a matter of the season with folks bringing in the Christmas tree. Someone is anticipating the arrival inside, the lights are on, good smells are coming from the kitchen, there is the aroma of pine and the whole thing has a sense of nostalgia and tradition.
Prints are 85-95% of original size, except where noted otherwise.
Dimensions of Original: 20"W x 12"H