It is with great sadness we announce that R. Benjamin Jones passed away on Feb. 24, 2017. Sales of Original paintings have been suspended until further notice.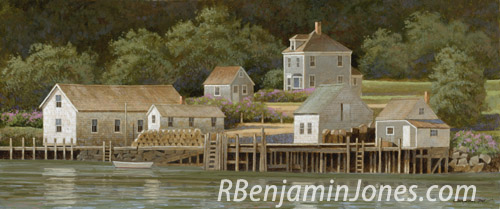 Stonington Harbor
This scene is in Maine and is the way out to a group of villages, remote and ragged. The color of Stonington Harbor is all gray. It feels like all work and no play. It feels, at times, like the end of the world or land's end. Its very remoteness is what makes it appealing to me.
Prints are 85-95% of original size, except where noted otherwise.
Dimensions of Original: 19"W x 8"H